HEALTH INFORMATION MANAGEMENT

Get started on your career as a Health Informa­tion professional and help fill the national shortage of skilled practitioners. If you want to work in healthcare, have a strong interest in computers, and know that direct patient care isn't for you, becoming a Health Information professional may be the ideal career choice.
This program prepares graduates to work in many different health settings, using the latest technology to contribute to quality patient care. You'll study bio­medical sciences, digital health, health analytics, privacy and health law.
This program is recognized by the Canadian College of Health Information Management (CCHIM). Graduates will be eligible to write the national certifica­tion examination administered by CCHIM and will be entitled to use the credentials CHIM to denote their professional designation.
The Canadian College of Health Information Management is a national, not-for-profit corporation that sets the accreditation standards for educational institutions and certification standards for health information professionals in Canada.
The College, incorporated in 1972, protects the public interest by governing and regulating the professional practice of more than 4,300 certified health information member registrants. In enhancing the status as a regulatory body, the College advances the professionalization of the health information industry and acknowledgement of its professionals as a key driver of policy, funding, and the care that Canadians receive. 
The Canadian College of Health Information Management sets the accreditation standards for educational institutions offering health information programs in Canada.
Accreditation demonstrates to the public that a program is aligned to industry standards, as identified through the College's needs assessment and consultation with industry. It is a voluntary, self-regulatory process to recognize those that meet or exceed the standards set for health information education. The purpose of accrediting programs is to ensure continuous quality improvement of the educational content to support the evolving health information industry.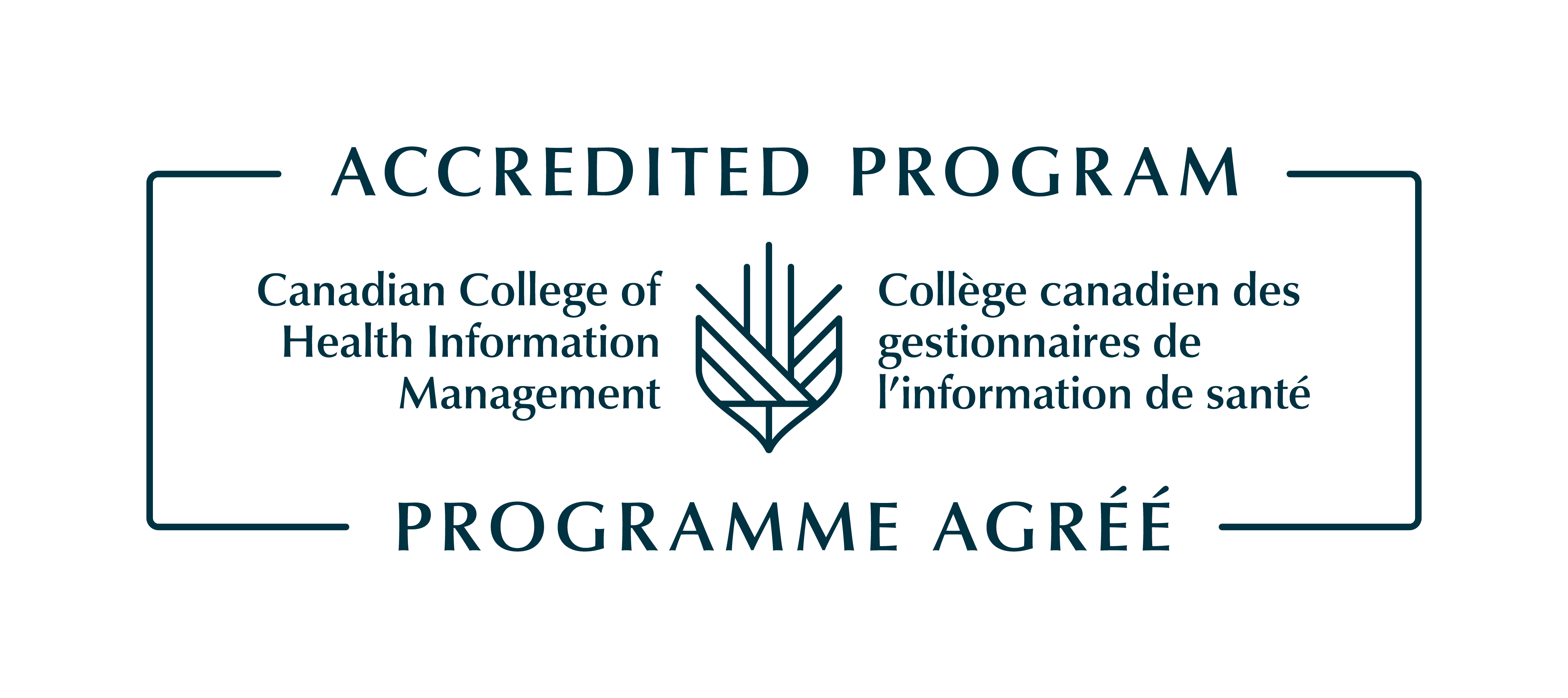 To learn more about the Health Information Management profession please visit www.echima.ca or www.cchim.ca
PROGRAM HIGHLIGHTS
The HIM professionals are the only certified experts in the science and technology of health information. Their key role is to maintain the integrity and confidentiality of personal health information within the Domains of Practice:
Electronic Health Information Management (e-HIM®);
Data Quality;
Privacy;
Health Information Management Standards.
Our program offers three external placements, where you will apply the skills you learned in the classroom while working with our industry partners such as:
Kingston Health Sciences
Providence Care Hospital
Ongwanada Resource Center
Lennox and Addington County General Hospital
Brockville General Hospital
Quinte Health Care
Cornwall Community Hospital
Kingston Community Health Center
The Ottawa Hospital
The skills gained as a HIM professional are portable and can be applied in a variety of roles, including:
Clinical Documentation Improvement Specialist
Chart Management Specialist
Cancer Registrar
Information Governance Analyst
Terminology Technical Specialist
Quality and Patient Safety Advisor
Consultant | Clinical Records Director
Privacy Officer
Utilization Management Officer
CAREER OPPORTUNITIES
Health Information Management (HIM) professionals participate in the collection, analysis and organization of health data to provide information that is used by management teams, clinical care teams, government statistical and funding bodies, researchers as well as information technology product developers. HIM professionals are important members of interdisciplinary health care teams contributing to quality patient care.
Career opportuni­ties exist in a variety of settings such as:
hos­pitals,
community health services
health networks,
research institutes,
legal firms,
government ministries and agencies
PLACEMENT
"At HDH/KGH we offer placement experi­ence for some of the St. Lawrence Col­lege HIM students in our Health Information Services Department. Students work closely with confidential client information in a variety of applied ways, and learn how health statistics contribute to the management of the organization and client care. The student will get "hands-on" experience applying the classification of diseases and interventions to the actual patient charts as well as experience in release of confidential patient information applying PHIPPA, Public Hospital Act and the Mental Health Act. This partnership in education has been a mutu­ally rewarding experience both for our organization and the HIM students."
Rajan Gill, Manager, Health Information Technical Services HDH/KGH Kingston, ON Gill, Manager, Health Information Technical Services HDH/KGH, Kingston, ON.
Please complete the form
Your form has been successfully submitted.
International Student Population: over 1600